Telerik Academy Officially Launched Free Software Development Courses for 100 Students from February 2010
In the last few months I am working as full-time consultant for the training initiatives in Telerik. It is really an exciting company and I really enjoy my job as manager of the technical training and university relations. I still can't believe that Telerik is really perfectly organized company, beyond my expectations and even dreams. It is unusual company with specific culture, structure and traditions. Unlike traditional companies our CEO sits behind me along with few developers, not in a separate "big boss room". I will blog about Telerik in details another day. Now let me present my main work at Telerik.
Telerik Academy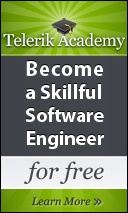 Today I launched a new long-term training project called "Telerik Academy". Telerik Academy is an initiative of Telerik Corporation aiming to provide free real-world practical training for young people who want to turn into skillful .NET software engineers and join the company development teams. The training complements the traditional University education with the cutting edge industry technologies from Microsoft and best practices in software engineering.
During the Telerik Academy training program highly motivated young people are attracted and candidates covering the program requirements are trained free of charge in the fundamentals of computer programming, logical algorithmic thinking, data structures, algorithms, problem solving and object-oriented concepts. The best of them are selected through exams and interviews and continue to the next level of training – .NET Development Essentials course, covering the .NET Framework class library, databases, SQL Server and LINQ, Web technologies, ASP.NET and AJAX, Windows Forms, WPF and Silverlight, as well as software engineering. Having successfully finished this stage the top students qualify for an additional specialized course in one of the following technological directions used in Telerik: ASP.NET & AJAX, Windows Presentation Foundation (WPF) and Silverlight, Windows Forms and Data-Centric Development. Finally, those who graduate will be presented with the opportunity to join the Telerik team and help us deliver exceptional software to the world.
Telerik Pays to Students to Study .NET Technologies
Telerik pays its trainees at Telerik Academy to learn the .NET technologies for few months and provides job for the best graduates. We are growing even during the global financial crisis and Telerik Academy is our way to grow with highly-motivated and skillful junior developers. Our learning track takes 6 months:
Foundations of C# Programming (Part 1) – 100 people, free of charge, 1 month, 8 hours/week, staring in February
Foundations of C# Programming (Part 2) – 50 people (filtered by exam), free of charge, 1 month, 12 hours/week, staring in Marh
.NET Programming Essentials – 15-20 students, 3 months, 4 hours/day, staring in April
ASP.NET / Windows Forms / Silverlight & WPF / Data-Centric – 10-15 students, paid to be trained, 1 month, 8 hours/day
All successfully graduated people start work in Telerik
Program Requirements
The minimum requirements for any candidate are:
Ability and willingness to work at full time (8 hours/daily) – after the first 2 months
High motivation to become software engineering professional
Technical English
Computer literacy
Long term commitment
Apply for Telerik Academy
To apply for free 6-months .NET training visit the Telerik Academy official web site.