Telerik is the Best Employer for 2010 in Bulgaria!
Today the reputable survey of Aon Hewitt (the #1 human capital consulting company in the world) has shown that Telerik Corp. is the best employer for Bulgaria for 2010 in the category "Small and middle enterprises". It is the leader not only in the IT sector but globally, in all industries. I am proud to be one the happy employees of Telerik and I truly believe that Telerik is really excellent place to work. Enjoy the results (source: DarikNews):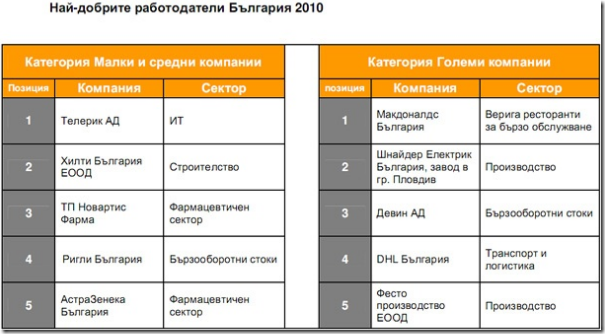 It is not a secret that Telerik is constantly growing, but with great people only. It has employed a hundred new software engineering professionals in 2010 and more than 20% of them come from Telerik Academy project – the best place to learn software development in Bulgaria for free: https://softuni.bg.
I feel a strong contributor to the success of Telerik and I am happy to be one to the organizers of Telerik Academy (softuni.bg) and Telerik School Academy (softuni.bg). I am happy that Telerik highly supports these initiatives and helps the Bulgarian IT industry to grow.