I joined as Tech Advisor for Bountie ICO: Token Economy for Gamers
During my last visit in Singapore in May 2018 I met a highly motivated team, building a solid crypto-startup, called Bountie, around the gaming industry in Asia. Bountie is a platform that will pay gamers to play computer games, through a token economy and blockchain.
My Blockchain Background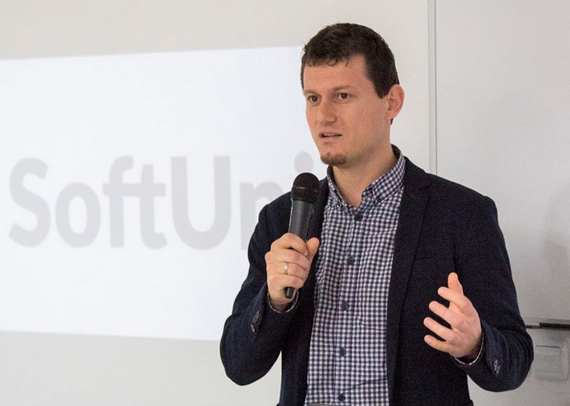 My name is Svetlin Nakov, from Bulgaria. I am a technical expert with focus on blockchain, education and decentralized computing, experienced software engineer and trainer, with 20+ years in the software industry. I started as contestant and champion in programming olympiads in 1990s, became a skillful software developer, later a technical team leader, then a technical trainer and entrepreneur with strong impact in the tech education, co-founder of the largest tech training center in South-East Europe (SoftUni), R & D expert, holding a PhD degree in computer science, and blockchain technical expert and blockchain trainer. Learn more at my LinkedIn profile.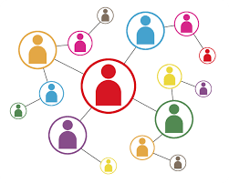 In the last year I focus my passion strongly on the blockchain technology from its technical perspective: blockchain and p2p networks, cryptography, wallets, transactions, consensus algorithms, smart contracts, Ethereum, Solidity, tokens and token mechanics, DApps, decentralized computing, decentralized storage, decentralized databases, etc.
I have a tech role in two quite successful ICO projects:
Technical adviser @ LockChain / LockTrip – https://locktrip.com

LockTrip == blockchain-based hotel booking platform with 0% commision
Raised ~ 10.000 ETH in token sale (Sep-Nov 2017)
Quite successful, launched a working product 6 months after the ICO
Currently the LOC token holders book hotels @ 20-30% better price
My role in the project is to advise the technical team about the blockchain technologies and their application in the LockTrip ecosystem
Educational team lead @ Academy School of Blockchain – https://academytoken.com

Academy provides education for blockchain developers and blockchain experts
Raised ~ 48M USD in token sale (Jan-May 2018)
Quite successful, SoftUni launched the first blockchain classes for developers around the world during the ICO in collaboration with Academy
I was deeply involved with Academy (until May 2018) with my technical team at SoftUni, teaching blockchain for developers classes around the world, creating and improving our SoftUni educational content for blockchain devs, growing a team of blockchain technical trainers and producing high-quality online blockchain curriculum with interactive learning process based on video lessons and live coding exercises. I am proud that SoftUni managed to deliver world class blockchain technical education product.
How I Evaluate ICO Projects?
When I evaluate ICO projects and blockchain startups, I mostly analyse several important things:
Token mechanics: strong ICO projects should have valid token mechanics. Valid token mechanics means that someone (on long term) will have a good reason to buy tokens and someone else will have a good reason to sell tokens (on long term). The ecosystem should be unable to function without the token circulation and the tokens should take part in transactions, impossible with fiat money (e.g. smart contract logic).
Strong team: successful startup projects are driven by exceptional teams. A strong team, with solid experience, high motivation, passion to build, and full dedication, is essential for the success of any startup, including the ICO-based ventures. String ICO teams should have a good balance of experienced people in management, marketing, product development and all other roles.
Market demand: successful startup projects (also ICO-based startups) should deliver innovations, products and services, which are valuable for the user. Users should have proven willingness to use the products / services (and pay for them), because they improve their life or solve some significant problem in certain industry. I call this high market demand. It is essential for any business venture, and can be deeply researched and proven before building a product / service / company.
Technical feasibility: the product / service that and ICO wants to build should be technically possible, and a clear vision should be created about how to build it: technologies, team, budget, timeline, etc.
By my experience, the above are the most important things to consider when you analyse if an ICO project will be successful on a long term. I do not involve myself in fake projects or projects with low potential to be successful, not just as ICO, but as a product / service / value they provide for a long term period, after the ICO.
Generally, I think that most of ICO projects on the market will not succeed, because they do not match the above listed criteria, but the token mechanics, blockchain and decentralization as concepts will have huge impact on the business and the society in the next years. That's why I am involved in the blockchain tech community.
About Bountie
Bountie (https://bountie.io) is a tech gaming startup, which builds a token-based ecosystem for the computer gaming industry, now running a ICO crowdsale. Bountie is based in Singapore, and is driven by highly-motivated and experienced entrepreneurs.

Bountie applies blockchain technology to provide token mechanics for connecting game players with game publishers and other participants in the gaming industry.
I think the Bountie's token mechanics will survive after the ICO, because:
Gamers will play games (for long term) and will be happy to win tokens for their achievements in the games and in the community around them. The tokens will be treadable, so best gamers will be paid to play games and to be strong players.
Partners (game producers, hardware companies, game publishers, etc.) will be happy to purchase tokens and use them for marketing of their gaming products and services. Tokens will be spent to influence the gamers, as a strong marketing tool.
Why I believe Bountie will be Successful?
Bountie will build a big and strong gaming community, because it has very experienced team and solid partner network and because it provides a cool products for the gamers. Partners will want to access this gaming community for their promotions, gamers will be happy to be awarded and paid for their achievements, so I believe the token economy in the Bountie ecosystem is valid and valuable.
The team behind Bountie is solid, experienced and highly motivated. When I visited their office twice in Singapore (in May 2018) I found them hard working late in the evenings, in a small startup-style office, with strong team spirit and passion to build a successful ICO.
In ICO projects, the marketing team, experience, budget, relations and partnerships is the most important thing during the ICO (token sale) phase. You should have good product, but you should sell it well, and this is even more valid with ICOs. The marketing team behind Bountie is really strong and experienced.
The market demand is strong and the gaming market is really huge. Ask the gamers "who wants to be paid to play games?" and check the responses. Ask the game producers, publishers and game marketers "who wants to pay to access a strong gaming community?" and most will answer that they are currently paying for this, but they want to improve their budget efficiency. I believe that the market will accept the token mechanics and the opportunity to use the blockchain in the gaming industry is huge.
The Bountie product, in its first versions is simple: instead of building a technical platform and software integrations with hundreds of games, Bountie will use people to organize and judge the game tournaments through the Bountie platform and will implement token transfers between the participants in the platform. This is not very complex, so the technical risks are not big. Still technical challenges like maintaining solid level of security, the transaction fees and blockchain scalability remain and a technical solutions will be provided during the project evolution.
I am convinced that the Bountie project will be successful as blockchain tech startup, because of: valid token mechanics, strong team, high market demand and technical feasibility.
My Role as Blockchain Tech Advisor for Bountie
My role in the Bountie project as "blockchain tech advisor" is to support it from the technical perspective, to review the technical architecture, the blockchain related technologies used, to propose solutions to technical challenges like instant token transfers, blockchain transaction throughput, transaction fees and the security of the platform.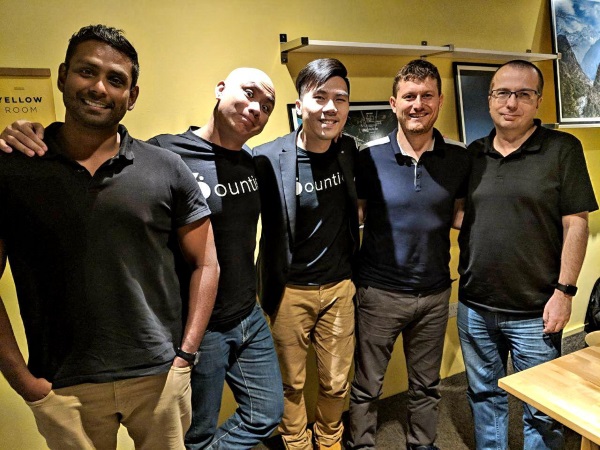 Svetlin Nakov with the Bountie management (May 2018 @ Singapore): Daniel Rajesh, Jose He, Lex Na and Remek Lipinski.
Invest in Bountie ICO?
I cannot not give you an investment advice about Bountie, because I am affiliated with it as technical advisor, and because I am not crypto investment expert. I am a technical expert and I already explained what I think about the Bountie project, its token mechanics, the team behind it and the product and why I believe it has good chances to be be successful.
You can learn more about the Bountie ICO from its whitepaper, available from https://bountie.io/tokensale.