Scrum Seminar with Stephen Forte and Joel Semeniuk – 20 October, 19:00 @ Telerik Academy
For the entire Scrum community in Bulgaria I am happy to announce that Telerik Academy will host a seminar on agile development with the Scrum, Kanban and Lean methodologies on 20 October 2011 in Sofia.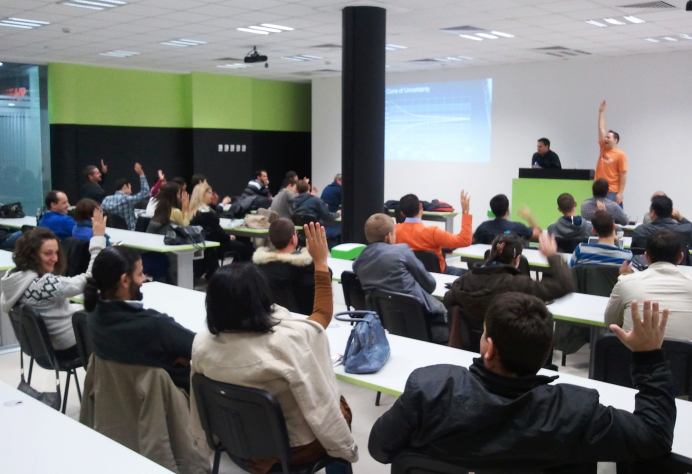 Seminar Topic and Annotation
Come talk Scrum with the Scrum Guys: Kanban, Scrum / Agile Q&A
In this session Joel Semeniuk (Executive VP) and Stephen Forte (Chief Strategy Officer) of Telerik will talk about Agile yesterday, today, and tomorrow. Their talk will briefly reflect on the 10 since the signing of the Agile Manifesto, discuss the significance of Scrum as well as emerging influencers such as Lean and Kanban in the evolution of Agile as we know it. This session will then upon up to a full Questions and Answers where Steve and Joel will discuss anything of interest to the audience.
Date, Time and Location
Date and time: 20 October 2011, 19:00
Venue: Telerik Academy New Training Hall (Sofia, bul. Alexander Malinov 31)
As usually, the event is free and is open to anyone interested in the discussed topics. We have capacity of 120 seats in out new training lab.
Speakers
Stephen Forte and Joel Semeniuk are well known top speakers from the most influential world's software development conferences.
Stephen Forte is the Chief Strategy Officer of Telerik, a leading vendor in .NET components. Prior he was the CTO and co-founder of Corzen Inc., a New York based provider of online market research data for Wall Street Firms. Corzen was acquired by Wanted Technologies (TXV: WAN) in 2007. Stephen is also the Microsoft Regional Director for the NY Metro region and speaks regularly at industry conferences around the world. He has written several books on application and database development including Programming SQL Server 2008 (MS Press). Prior to Corzen, Stephen served as the CTO of Zagat Survey in New York City and also was co-founder and CTO of the New York based software consulting firm The Aurora Development Group. He currently an MVP, INETA speaker and is the co-moderator and founder of the NYC .NET Developer User Group. Stephen has an MBA from the City University of New York.
Joel Semeniuk is a founder of Imaginet Resources Corp., a Canadian based Microsoft Gold Partner. Currently, Joel is also serving as an Executive VP at Telerik in charge of the Team Productivity Division. He is also a Microsoft Regional Director and MVP Microsoft ALM and has a degree in Computer Science. With over 18 years of experience, Joel specializes in helping organizations around the world realize their potential through maturing their software development and information technology practices. Joel is passionate about Application Lifecycle Management tooling, techniques, and mindsets and regularly speaks at conferences around the world on a wide range of ALM topics. Joel is also the co-author of "Managing Projects with Microsoft Visual Studio Team System" published by Microsoft Press as well as dozens of other articles for popular trade magazines.
Event Organizers
The seminar is organized jointly between Telerik Academy and the Bulgarian Scrum User Group (Scrum Bulgaria) and is supported by Telerik Corp. and DevReach conference.